are you too How to earn money from Bhim App Want to know? If yes then today's article can be very important for you. The development of technology has brought a revolution in India. And it is due to technology that it is slowly becoming completely digital as online services are adopting various sectors.
It has become easier to work due to this, a lot of time is saved, today there are many such Website and App have been made which Provides online service through which you can buy goods, movie booking, room booking, money transactions etc. In today's post, we will tell about a similar service that works for online transactions.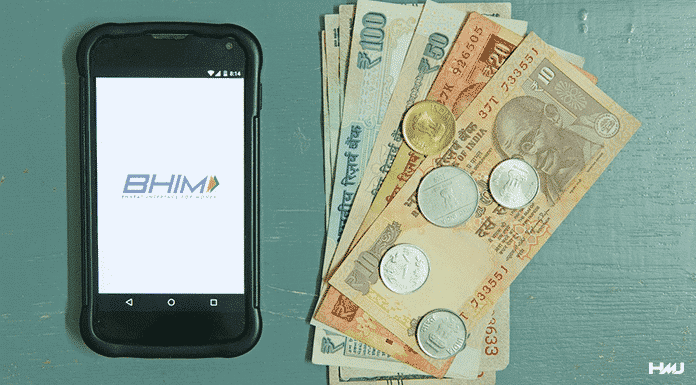 As you know, there are many apps and websites to transfer money online. This website and app makes your work easy. Today we will tell you about a similar app whose name is Bhim App, today through this article we will tell you What is Bhim app and how to earn money from it Will give detailed information about it.
What is BHIM App?
BHIM It is a payment app based on a UPI (Unified Payment Interface). Its full name is Bharat Interface for Money. This is a government-run app which was launched by the Prime Minister of India, Shri Narendra Modi.
doctor on 14 april Bhimrao Ambedkar's birth anniversary On the occasion of this app was launched. Through which people were able to do online transactions by installing it on their smartphone. Any trader or vegetable seller can easily use this app.
For this, first you have to download BHIM App from any App Store, after that you have to enter your Bank Account Details using Mobile Number. When your bank accounts are added, after that you can easily do any kind of online transaction like Money transfer, Mobile recharge, online ticket booking, room booking etc. can.
After signing up in BHIM App, you get a VPA (Virtual Payment Address). This VPA can be based on your mobile number or your email ID. If you want to receive payment from any other person then your bank details will not be required for this.
That person can only pay you through your VPA. Instead if you want to make payment to any other person then you can also transfer money through that person's VPA or his bank details (Account Number, IFSC code).
This app has been designed in such a way that people can easily transact their money with it and it does not require any kind of technical knowledge.
How to send money through BHIM app?
Now let's understand how you can send money from BHIM App.
Step 1: To send money from BHIM App, first you have to signup. Follow the steps given below to signup in BHIM app.
1. First of all App Store Or download the BHIM App from the link given below.
2. After that install it in your mobile and open it.
3. After that select a language and click on Proceed button.
4. After that you have to choose the SIM card present in your phone whose number is registered with your bank account. The app will send you an SMS for verification, which will verify the BHIM App.
5. After verification, the BHIM app asks for a four-digit PIN, enter a four-digit PIN here. This PIN will be asked to you while logging into the App.
Step 2: Set BHIM UPI PIN
After signing up, you need to enter the details related to your bank. After this you need to create a PIN. This PIN will be asked from you while doing the transaction. For this follow the steps given below.
1. Add Bank Account Click on There you will see a list of banks. Choose your bank from that. After that this app will collect your account information from your bank. Whatever accounts are linked to your mobile number in that bank will be shown in front of you. Select an account from it.
2. Now you will be asked to enter the last 6 digits of your Debit Card and the expiry date of the debit card.
3. After that you will be asked a UPI PIN. Enter a UPI PIN here. This PIN will be asked from you while doing the transaction.
[su_panel background="#ffbcba" color="#000000″]Please do not share your UPI-PIN with anyone. BHIM does not store your UPI-PIN anywhere. Customer care will also never ask for it.[/su_panel]
Step 3: Send money using BHIM App
Follow the steps given below to send money through BHIM app.
1. On the home screen, the app has three options. Send Money, Request Money and Scan. Click on the SEND icon to send money.
2. Enter the mobile number or Virtual Payment Address (VPA) of the person you want to send money to. (Click on three dot menu in right top corner, if you want to send money directly to bank account using IFSC code)
3. Enter the amount and finally, enter the UPI PIN. You will be able to make the payment successfully.
How to earn money from BHIM app?
As I have already told Bhim app is a kind of Money Transaction App. To make digital transactions more attractive, the National Payments Corporation of India (NPCI) has launched a cashback scheme for customers and merchants using the Bharat Interface for Money (BHIM) App.
With the new plans, customers will get a cashback of up to Rs 750 per month, while merchants can get a cashback of up to Rs 1000 every month. So let us now find out about various ways by which you can earn money using BHIM App.
1. Get a Welcome Gift of ₹ 51 on First Transaction from BHIM App
Although the cashback service is valid for both new and existing users, users using the BHIM App will get a cashback of Rs.51 on completing their first transaction as a welcome gift. For this, the user has to link his bank account and complete the first transaction. Cashback can also be availed by sending a minimum of ₹1 to get the cashback amount.
2. Earn Money From Bhim App Referral Program
Giving this information, the Prime Minister said that if you can win cash back using the app, you will get ₹ 10 and the person you refer will get ₹ 25 for every transaction, this ₹ 25 is for three transactions only but It should have a balance of more than ₹ 50. Follow the steps given below to refer Bhim App to a friend.
1. Open the BHIM App.
2. Top Menu located on the homepage Click on the icon.
3. Click on Refer a friend.
4. Click on Invite.
5. After that you can make your referral Will be able to share the link.
6. As soon as he downloads and installs the Bhim app through your link, then you will get ₹ 10 for it, if you install 20 people, then you will get the benefit of ₹ 200 in a day.
7. In this way you can also earn money through Bhim app.
3. Get Cashback up to Rs.500 with BHIM App
Cashback up to Rs.500 BHIM app will give Rs.25 cashback for every unique transaction done through VPA/UPI ID, account number or mobile number. Minimum transaction value should be Rs.100. Users can earn maximum cashback of Rs 500 per month.
In addition to the cashback per transaction, there will be cashback based on the monthly transaction volume done by the users. If BHIM App users do 25 or more transactions but less than 50 per month, they will get Rs 100 cashback. For transactions above 50 and less than 100, Rs 200 will be provided as cashback. Those who do more than 100 transactions monthly will get Rs 250 cashback.
What did you learn today?
I hope you like my article What is BHIM App? Must have liked it. It has always been my endeavor to provide complete information to the readers about how to earn money from Bhim App, so that they can be seen on any other sites or websites. There is no need to search in the context of that article in the internet.
This will also save their time and they will also get all the information in one place. If you have any doubts about this article or you want that there should be some improvement in it, then you can write low comments for this.
If you like this post How to earn money from Bhim app in hindi If you liked or got to learn something, then please share this post on Social Networks such as Share on Facebook, Twitter and other social media sites.